Music, movies, TV, books, amusement parks, and now…add baking to the worlds that Dolly Parton has conquered!
Starting Wednesday January 26th 2022 you can now order and bake from Dolly's Southern Favorites from Duncan Hines!
Dolly shares, "I've always loved to cook. Growing up in the South exposed me to that authentic Mom & Pop kind of cooking. Baking was no different. I had plenty of people to show me what's what in the kitchen… my Mama, my grandmothers and my aunts were all wonderful bakers."
Dolly adds, "They taught me everything I know, from biscuits and gravy to chocolate cake. Now I am proud to share some of those favorites with all of you."
Dolly and Duncan Hines are collaborating on a line of baking mixes and frostings inspired by Dolly's Famous Southern Recipes.
Starting Wednesday January 26th, you can now order at Duncan Hines the limited-edition collection that includes
1 Southern Style Coconut Flavored Cake Mix
1 Southern Style Banana Flavored Cake Mix
1 Creamy Buttercream Frosting
1 Creamy Chocolate Buttercream Frosting
1 Dolly-Inspired Spatula
1 Dolly-Inspired Tea Towel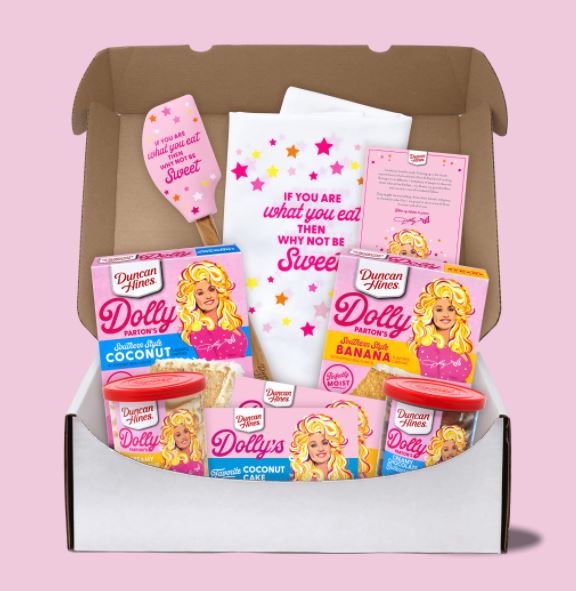 Coming soon, you'll also be able to head to the store to get the Southern Style Banana Cake Mix, or the Southern Style Coconut Cake Mix along with either the Creamy Buttercream Frosting, or the Creamy Chocolate Buttercream Frosting.

Photo Courtesy of Dolly Parton/Getty Images