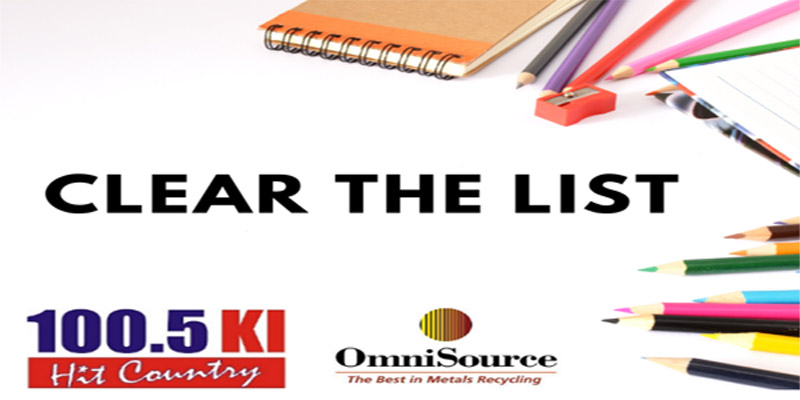 Many teachers in KI Country have to pay for classroom supplies out of their own pocket. You can help out by donating items from teachers' Amazon shopping lists.
Teachers, go to Amazon and hover over Account & List at the top of the page. Select 'Create a List' from the drop-down menu. Click 'Save' and start adding items to your list. Please make sure you associate a shipping address with your list. After you've created your list, send the link to MaleCall@WWKI.com
If you're helped by this initiative, please message or post your thanks to the OmniSource Kokomo Facebook page.
ACS Southview – Jessica Wirsch Special Education Preschool Wish List
Bon Air Elementary – Amanda Chesshir – Special Education K-2 Wish List
Bon Air Elementary – Denise Kinkaid 2nd Grade Wish List
Bon Air Elementary – Mrs. Diana Smith Kindergarten Wish List
Bon Air Elementary – Rachal Oldaker 1st Grade Wish List
Boulevard Elementary – Alycia Daleo Kindergarten Wish List
Boulevard Elementary – Ashley Smith 3rd Grade Wish List
Boulevard Elementary – Jenny Skelton 2nd Grade Wish List
Boulevard Elementary – Katelyn Woolley 1st Grade Wish List
Boulevard Elementary – Kayla Weghorst 3rd Grade Wish List
Boulevard Elementary – Laurie Ann Yeung Wish List
Boulevard Elementary – Melody Gammans Special Education Wish List
Boulevard Outdoor Learning – Elizabeth Rayl Kindergarten Wish List
Chapel Hill Christian Preschool – Michelle Knight Kindergarten Wish List
Children's Christian Academy – Emily Rivers Pre-K Wish List
Clinton Central Elementary – Heather Snyder's Kindergarten Wish List
Converse Elementary – Jamie Troyer 2nd Grade Wish List
Eastern Elementary – Hailey Rice Wish List
Eastern Elementary – Janae Quinn 4th Grade Wish List
Eastern Elementary – Mrs. Maurer Wish List
Eastern Elementary – Megan King 4th Grade Wish List
Eastern Elementary – Rebecca Miller Special Education Wish List
Eastern High School – Patricia Hendricks Wish List
Eastern Howard – Jillian Bellaw Wish List
Eastern Howard – Lexi Hunt KASEC Functional Skills Wish List
Eastern Howard MS/HS Orchestra Wish List
Eastern Howard – Melissa Wight Special Education Wish List
Eastern Middle School – Amy Warnock 6th Grade Wish List
Elmwood Primary Learning Center – Amy Burton Kindergarten Wish List
Elwood Haynes Elementary – Cailyn Kessler 3rd Grade Wish List
Elwood Haynes Elementary – Dylan McHenry's Wish List
Elwood Haynes Elementary – Joybeth Bryan 4th Grade Wish List
Elwood Haynes Elementary – Lydia Standish Preschool Wish List
Elwood Haynes Elementary – Mrs. McKinney's Wish List
Elwood Haynes Elementary – Miss Newby 3rd Grade Wish List
Elwood Haynes Elementary – Tammy Kearnes 2nd Grade Wish List
Elwood Haynes Elementary – Tiffany Kersey's Kindergarten Wish List
Elwood Haynes Elementary – Tina Hahn 1st Grade Wish List
Frances Slocum Elementary School – Greg Miller 3rd Grade Wish List
Fairview Elementary School – Jamie Seibert's 4th Grade Wish List
GLASS at Linnwood Early Learning Center – Mary Fisher's Special Education Preschool Wish List
Holy Cross Lutheran – Amanda's Middle School Wish List
Horizon Christian School – Aliyah Holmen 1st Grade Wish List
Horizon Christian School – Janice Morrow Wish List
Howard Elementary – Brenna Simpson 3rd Grade Wish List
Howard Elementary – Darion Murphy 4th Grade Wish List
Howard Elementary – Shelly Crozier Kindergarten Wish List
Howard Elementary – Mrs. Trapp 5th Grade Wish List
Howard Elementary – Ms. Wintz 5th Grade Wish List
Kokomo Area Career Center Wish List
Kokomo Area Career Center – Judi Townsend Health Sciences Wish List
Kokomo Area Career Center – Lacey Jones Wish List
Kokomo Area Career Center Cosmetology Wish List
Kokomo Center Schools – Elizabeth Canady Wish List
Kokomo Housing Authority – Homework Club Wish List
Kokomo School Corp. – Charlene Irish Wish List
Kokomo School Corp. – Daire Short's Wish List
Kokomo School Corp. – Mrs. Katelyn Wooley 1st Grade Wish List
Kokomo School Corp. – Terese Hanson 3rd Grade Wish List
Kokomo School Corp. – Victoria Dennis Wish List
Lafayette Park Elementary School – Amy Henderson 3rd Grade Wish List
Lafayette Park Elementary School – Heather Baden Kindergarten Wish List
Lafayette Park Elementary School – Krista Crouch 5th Grade Wish List
Lafayette Park Elementary School – Lindsey Leedy 4th Grade Wish List
Lafayette Park Elementary School – Ms. Kenworthy K-5 Spanish Wish List
Lafayette Park Elementary School – Mrs. Olivarez Kindergarten Wish List
Lewis Cass Elementary – Bridget Reed 1st Grade Wish List
Lewis Cass Elementary – Carrie Klute 3rd Grade Wish List
Lewis Cass Elementary – Ms. Kelley Cottingham Special Education Wish List
Lewis Cass Elementary – Micah Bruner 2nd Grade Wish List
Lewis Cass Elementary – Rebecca Hinkle Wish List
Lewis Cass Elementary – Mrs. Samantha Hagen's 4th Grade Wish List
Lewis Cass Elementary – Sue Gremelspacher's Wish List
Lewis Cass Jr/Sr High – Kristina Woolf Special Education Wish List
Logansport High School – Chad Barlow Science Wish List
Maconaquah Elementary – Ashly Driver 2nd Grade Wish List
Maconaquah High School – Joe Rife Wish List
Maconaquah High School – Kari Catanzaro US History Wish List
Maple Glen Elementary – Mrs. Jamie Meyers Wish List
McKinley Alternative School – Jerry Butler Grade 9-12 Wish List
Morristown Elementary – Kristin Crawford 5th Grade Wish List
Noblesville East Middle – Kristen Leer 7th Grade Special Education Wish List
North Miami – Joe G's Wish List
North Miami – Leslie Hendrix 3rd Grade Wish List
Northwestern – Brittany Brooks 2nd Grade Wish List
Northwestern – Brittany Perry 2nd Grade Wish List
Northwestern – Charity Rossiter's K-3 Special Education Wish List
Northwestern – Elizabeth Fulk's Wish List
Northwestern – Hallie Roth 2nd Grade Wish List
Northwestern – Miss Hanni Kindergarten Wish List
Northwestern – Katie Griner 2nd Grade Wish List
Northwestern – Hannah Kinney Kindergarten Wish List
Northwestern – Jennifer Longgood's High School Library Wish List
Northwestern – Jennifer Longgood's Middle School Library Wish List
Northwestern – Jeremy Snyder Band Wish List
Northwestern – Jessica Johnston 6th Grade Wish List
Northwestern – Kim Cunningham 2nd Grade Wish List
Northwestern – Lindsay Holt 3rd Grade Wish List
Northwestern – Sheena Shoaff Kindergarten Wish List
Northwestern – Shelby Rooze Wish List
Oak Hill – Mrs. Brooke Arthur 8th Grade Wish List
Oak Hill – Dave Spargo Wish List
OJ Neighbors Elementary – Renee Frasure 2nd Grade Wish List
Park Elementary – David Pyle 4th Grade Wish List
Peru Community Schools – Julie Worland Special Education Wish List
Peru Community Schools – Kayla Hughes Special Education Wish List
Peru Head Start – Meagin's Wish List
Petit Park Elementary – Meisha Abresch 5th Grade Wish List
Petit Park Elementary – Brooklyn Hill 5th Grade Wish List
Petit Park Elementary – Casey Brown 5th Grade Wish List
Petit Park Elementary – Ms. Shorts Wish List
Pettit Park Preschool – KyAnne Shedron Wish List
Pioneer Elementary – Karla Roeske 6th Grade Wish List
Pipe Creek Elementary – Mrs. Cassandra Barker 1st Grade Wish List
Pipe Creek Elementary – Chas Zelinsky Kindergarten Wish List
Pipe Creek Elementary – Heather Hollenback Kindergarten & 1st Grade Special Education Wish List
Rochester High School – Tanner Fernung Graphic Arts Wish List
South Creek Preschool – Heather Reed Wish List
Southwood Elementary School – Kimberly Rutledge 5th Grade Wish List
St. Joan of Arc – Alexandria Ewing 3rd Grade Wish List
St. Joan of Arc – Kim Murdock 5th Grade Wish List
Sts. Joan of Arc & Patrick Schools – Mariah Horner Middle School Math Wish List
Sycamore Elementary School – Wendy Hendrix Special Education Wish List
Taylor Elementary – Abigael Mitchell 4th Grade Wish List
Taylor Elementary – Alyse Osborne Kindergarten Wish List
Taylor Elementary – Casey DeBard Special Education List
Taylor Elementary – Erin Chrzanowski 1st Grade Wish List
Taylor Elementary – Mrs. Friend 1st Grade Wish List
Taylor Elementary – Jacki Myers 2nd Grade Wish List
Taylor Elementary – Jennifer Drang 1st Grade Wish List
Taylor Elementary – Julie Ryckman Preschool Wish List
Taylor Elementary – Kristy High TES Wish List
Taylor Elementary – Melissa Kunkle 3rd Grade Wish List
Taylor Elementary – Melissa Thompson Kindergarten Wish List
Taylor Elementary – Sarah Fleek Kindergarten Wish List
Taylor Elementary – Sherry Degler 1st Grade Wish List
Taylor Elementary – Mrs. Steed Special Education
Taylor Elementary – Tawni McKay 4th Grade Wish List
Taylor Elementary – Trisha Cox 3rd Grade Wish List
Taylor Middle School – English & Reading Wish List
Taylor Middle School – Mrs. Stephanie Barker Mathematics Wish List
The Children's Christian Academy – Kristen Day 1st & 2nd Grade Wish List
Tipton Elementary School – Mrs. Allison Ripberger 3rd Grade Wish List
Tipton Elementary School – Mrs. Heady 2nd Grade Wish List
Tipton Elementary School – Cheri Leffler Wish List
Tipton Elementary School – Danielle Grubb 1st Grade Wish List
Tipton Elementary School – Jessica Hendricks 5th Grade Wish List
Tipton – Lela Crawford 2nd Grade Wish List
Tipton Elementary – Diane Degenkolb 2nd Grade Wish List
Tipton Elementary School – Mara Isenhower Kindergarten Wish List
Tipton Elementary School – Scott Leffler 5th Grade Wish List
Tipton Elementary School – Shellie Bitner 3rd Grade Wish List
Tipton Elementary School – Stacey Angell 1st Grade Wish List
Tipton High School – Mrs. Fernung's English Class Wish List
Tipton Middle School – Jason Bales 8th Grade History Wish List
Tri Central – Mrs. Arnold Special Education Wish List
Tri Central – Mrs. Graves Kindergarten Wish List
Tri Central Elementary – Angela Weitzel 2nd Grade Wish List
Tri Central Elementary – Allison Sears 2nd Grade Wish List
Tri Central Elementary – Mrs. Basham's 6th Grade Wish List
Tri Central Elementary – Ciara Stout 4th Grade Wish List
Tri Central Elementary – Kathrynn Parker 1st Grade Wish List
Tri Central Elementary – Kayla Ann James 2nd Grade Wish List
Tri Central – Kyla Horst Family & Consumer Sciences Wish List
Tri Central Elementary – Naomi Ferrel Kindergarten Wish List
Tri Central Elementary – Sarah Cope's 4th Grade Wish List
Tri Central Elementary – Shannon Rinehart Pre-K Wish List
Tri Central Elementary – Terri Adams STEM Wish List
Tri Central Elementary – Ms. Tragesser's 2nd Grade Wish List
Tri Central Middle School – Lindsay Basham 6th & 7th Grade Math Wish List
Tri Central Middle School – Jessica Papai 7/8th grade Science Wish List
Tri Central – Blake Shrader Health/PE Wish List
Tri Central – Shari DeLong Science/STEM Wish List
Tri Central – Mrs. Sorensen Special Education Wish List
Tri Central – Summer Rogers Algebra & Geometry Wish List
Wallace Elementary – Dr. Jenny Mygrant 5th Grade Wish List
Wallace Elementary – Vicki Dennis – Wish List
Wallace School of Integrated Arts – Darcie York Kindergarten Wish List
Wallace School of Integrated Arts – Jordan Miller 1st Grade Wish List
Wallace School of Integrated Arts – Kylie Kern 1st Grade Wish List
Western – Brittany Powell Wish List
Western – Kendra Metcalf Special Education Wish List
Western – Megan McGrew STEM Wish List
Western School Corp. – Tricia McClain – Occupational Therapy Wish List
Western Mrs. Rodman's Education Support into Transition Wish List
Western High School – Chelsie Depew Art Wish List
Western High School – Jacob Turner Industrial Tech/PLTW Engineering Wish List
Western High School – Jamie Brown Spanish Wish List
Western High School – Jessie Coble Wish List
Western High School – Katy Bowers Wish List
Western High School – Mrs. Kritzman's Consumer Sciences Wish List
Western High School – Nicky Rodman PreVocational Education Wish List
Western High School – Sarah Bourff Spanish Wish List
Western Intermediate School – Abby Crume 1st Grade Wish List
Western Intermediate School – Allison Turner 3rd Grade Special Education Wish List
Western Intermediate School – Ann Loveless Wish List
Western Intermediate School – Brooke Mast 3rd Grade Wish List
Western Intermediate School – Mrs. Carrie Worland 4th Grade Special Education Wish List
Western Intermediate School – Christy Unger 4th Grade Wish List
Western Intermediate School – Derren Walters 4th Grade Wish List
Western Intermediate School – Emily Nicholson Life Skills Wish List
Western Intermediate School – Mrs. Evans 6th Grade Wish List
Western Intermediate School – Janelle Quinn 3rd Grade Wish List
Western Intermediate School – Hattie Johnson 4th Grade Wish List
Western Intermediate School – Mrs. Kim Keogh 3rd Grade Wish List
Western Intermediate School – Kylie Young 3rd Grade Wish List
Western Intermediate School – Laurie Ray 4th Grade Wish List
Western Intermediate School – Maizie Wickersham 5th Grade Wish List
Western Intermediate School – Melissa Burkhalter 3rd Grade Wish List
Western Intermediate School – Nancy Erb Special Education Wish List
Western Intermediate School – Natalie Wheeler 5th Grade Wish List
Western Intermediate School – Peggy Obermeyer 8th Grade Science Wish List
Western Intermediate School – Taylor Michael 3rd Grade Wish List
Western Intermediate School – Tiffany Herrera 3rd Grade Wish List
Western Intermediate School – Victoria Wunderlich 5th Grade Wish List
Western Middle School – Alison Butler FACS Class Wish List
Western Middle School – Jared Grinstead Science Wish List
Western Middle School – Kay Lazar Wish List
Western Middle School – Peggy Obermeyer 8th Grade Science Wish List
Western Middle School – Ty Spangler 7th Grade Wish List
Western Primary School – Angie Watson Kindergarten Wish List
Western Primary – Cathy Phifer Wish List
Western Primary – Carley Rawlings Kindergarten Wish List
Western Primary – Dakota Waters 2nd Grade Wish List
Western Primary – Debbie Hunt Wish List
Western Primary – Donnelle Miller 2nd Grade Wish List
Western Primary – Mrs. Grinstead 1st Grade Wish List
Western Primary – Haleigh Stipes Kindergarten Wish List
Western Primary – Jena Myers Wish List
Western Primary – Kristen Hoover Kindergarten Wish List
Western Primary – Lori Meeks 2nd Grade Wish List
Western Primary – Mrs. Harden Kindergarten Wish List
Western Primary – Mrs. Hollingsworth's Reading Specialist (K-2) Wish List
Western Primary – Jennifer Colter 2nd Grade Wish List
Western Primary – Jessica Love 1st Grade Wish List
Western Primary – Mrs. Kirby Griffith Art Wish List
Western Primary – Mrs. Nicoles Wish List
Western Primary – Tori McGraw Kindergarten Wish List
Western Primary – Mrs. Tuberty's 2nd Grade Wish List
Western Primary – Mrs. Watson Kindergarten Wish List
Western High School in the Spec. Ed. Pre-Vocational Education Wish List
Westfield Schools – Mrs. Weir's Wish List