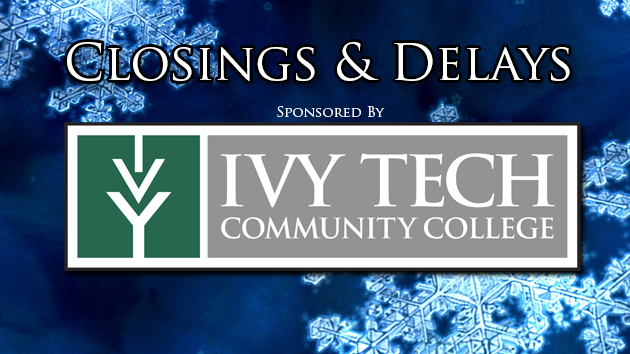 Hear the school closing and delay updates at :05 and :35 each hour on 100.5 FM, provided by  Ivy Tech Community College – high-tech, hands-on, practical. Visit Ivy Tech.edu for more info.
**UPDATE**  PER THE INDIANA DEPT. OF EDUCATION, ALL INDIANA SCHOOLS CLOSED THROUGH MAY 1
Ivy Tech Community College Closing All Buildings
College services to now also be offered virtually when virtual instruction begins on March 23
IU Kokomo – Spring break will be extended one week until March 29. Classes will not resume until March 30 but all face-to-face classes will be suspended for the remainder of the spring semester. Classes will instead be transitioning to virtual learning.
Indiana Public Schools:
Mandated Statewide School Closure until May 1 – This mandated closure follows recent Centers for Disease Control guidelines to limit gatherings to less than 10, and may be extended through the remainder of the 2019-2020 school year. Schools utilizing eLearning can continue to do so as determined by their local school administrators and school boards.
Twenty Day Waiver Extension – As the COVID-19 pandemic continues to shift, the current 20-day waiver may not adequately address the needs of local districts. Therefore, IDOE will work with individual districts and schools to determine the total amount of instructional waiver days necessary.
Forgiveness from Accountability, Chronic Absenteeism, and Assessment Requirements – Indiana will continue to pursue all federal waivers associated with the forgiveness of accountability, chronic absenteeism, and mandated assessment requirements for the 2019-2020 school year. Currently, IREAD-3, ILEARN, ISTEP+, I AM, WIDA Screener, and ISPROUT have been cancelled. Please note, ISPROUT and WIDA continue to be available for early childhood providers that are operational and districts utilizing eLearning.
Requirements for Grade 12 Seniors – Understanding the acceptable concerns of Grade 12 seniors and their families, IDOE will continue working to develop a timely and practical solution.
Food Service Waiver – Providing children access to wholesome and nutritional meals is a priority and an action our schools continue to take. While schools are finding creative solutions to meet the needs of their students, IDOE will vigorously pursue all available federal waivers to ensure zero interruption. To date, 94 percent of Indiana's traditional public schools are providing or arranging meals.
Additionally, the Kokomo School Corporation Food Services Department officials will be providing breakfast and lunch "take-away" meals for all Kokomo Schools students at no cost. Each Wednesday during school weeks (not spring break), five breakfasts and five lunches will be provided to each student between 9 a.m. to 12 p.m. at the following locations: Bon Air Middle School (2796 Apperson Way North), Central Middle School (303 E. Superior St.), and Maple Crest Middle School (2727 S. Washington St.).
St. Joan of Arc and St. Patrick schools will be closed until after spring break.
Very Early Childhood Education Center of Kokomo – Closed until March 30th with no Kindermusik programs.
Crossroads Learning Corner will be having a temporary closing at 6pm on Friday, March 20  Follow them on FB for later updates